Kathleen Cleaver

The BPP's communications secretary and a loud voice that arose durring the Civil rights movement.


The Legend Of Elain Brown
Elaine Brown, a woman who later in time became known to be as a legend in the BPP. In 1974, she became known as the one and only woman known, to lead the Black Panther Party when the Panthers leader, Huey P. Newton went into exhile. A woman, who was leading one of the country's most militiant, and highly important Civil Rights groups.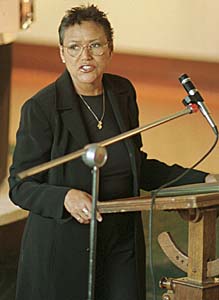 Click on the picture of above to read a short bibliography on Elaine Brown.

Men weren't the only ones who took part in the movement. Black women, also took part it by joining the BPP. Elaine Brown and Kathleen Cleaver were not the only women to join the Party, but they were part of the original committee. The movement gave women a chance to express their feelings in the Black Liberation movement, and the BPP let them do so politically, and physically. There were many other women who joined the party, than just the ones listed above. They were known as the BPP Sisters. Those other Vanguard women I know of are, Lynn French, Leslie Johnson-Seale, Ericka Huggins: The Comrade to the BPP, Afini Shakura, Jo Ann Chesmar, Carol Rucker, Lauren Williams, Brenda Presley , Shelly Bursey, Joan Kelly, and Jonina Abrahms. God Bless them all!