It was a time for voices to be heard, and a time for justice become a reality. Standing for the equal rights for their people, young black revolutionaries who called themselves the Black Panthers, took part in one of the important movements in Black American history. Protecting blacks from police brutality, providing food for hungry ghetto children and demanding equal rights for their people, the Black Panther Party stood as one of the most important groups in the Black Liberation movement. These young revolutionaries, known as heroes by some and outlaws by others, were not going to give up until their needs as Americans would be answered. To put an end to police brutality, acts of injustice, racism, and become provided with the same equal rights as any other American in the united states. These brave men and women weren't going to stop until they were heard out loud and clear, that one day every black man, or woman in America would be given justice and equal rights. In only a matter of ten years, they succeeded.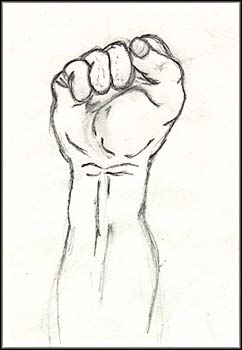 The "Fists Of Glory" Drawing by essayist James Taylor.
This symbol the fist down below, was used by party members and all other blacks who felt a strong sense of solidarity with their struggle in the civil rights movement.The Fist of Glory represented black unity, in the struggle for freedom durring that time, and anyone saluting it would be considered very radical and counter-culteral. The "fists of Glory" you will notice that in my of the pictures i have in my site, men, or women, hold one fist high into the air, representing this symbol.

The millitiant black political organization, who combined the elements of socialism and Black Nationalism, strongly insisting that if the government or businesses would not provide full employment to Afro-Americans, the community would try taking over the means of production.